Universal Techno is a Multidisciplinary and Interactive Event Concept that highlights the impact of Techno Culture on our contemporaries.
Sustaining local actors, creating a safe space for diversity and multiculturalism, encouraging self-expression.
Art Installations + Live Performances + Public Interactive + Surprised Music Line-Up and After Hours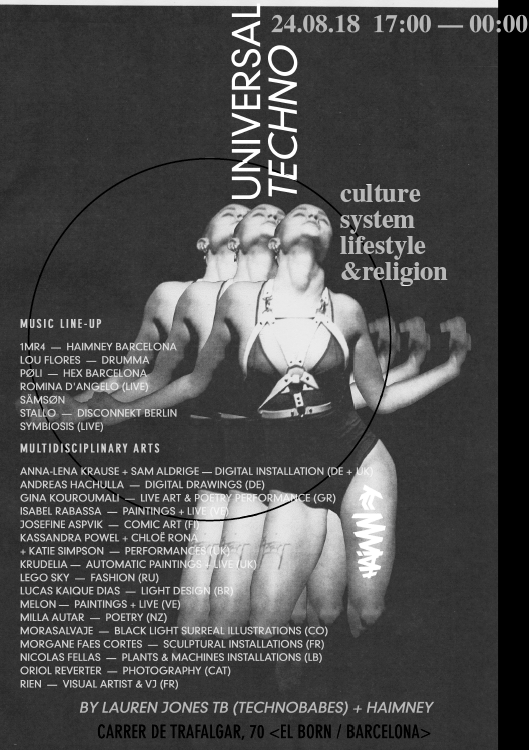 Universal Techno is an Art Show designed by Lauren Jones TB & hosted by Haimney Art Gallery (Barcelona) that highlights the influence of the Techno Music Culture on artists' source of inspiration; leading to the development of an artistic movement.
We curate artists from various horizons – disciplines and countries – we thoughtfully blend music + arts and invite the public to co-create an ephemeral and interactive space for creative freedom and inspiring momentum.
Art Installations + Live Performances + Style & Fashion Design + Live Painting + Photography + Digital Drawings + Public Inter-activities + Sensorial Experiences + Surprise Music Line-Up and After Hours
_
Techno is much more than just a music genre.
It has been gathering people to better unite us and it has been spreading like a wave around the planet.
The movement breaks social and physical boundaries.
"Techno" inspires all of us and helps alternative ideologies to spread worldwide.
It is a lifestyle that we adopted or that adopted us.
All together we are the Techno Collective.
We let our soul speaks through movement and creativity.
_
Andreas Hachulla – Digital Drawings (DE)
Anna-Lena Krause & Sam Aldridge – Digital Installations (DE + UK)
Dani Lozano aka Cachorro – Drawings (SP)
Gina Kouroumali (live)-art and poetry performance (GR)
Iara Kaumann Madelaire – Sculptures (AR)
Isabel Rabassa – Paintings + live (VE)
Josefine Aspvik – Comic Art (FI)
Kassandra Powel + Chloé Rona + Katie Simpson – Performances (UK)
Krudelia – Automatic Paintings + Live (UK)
Lego Sky – Fashion (RU)
Lucas Kaique Dias – Light Design (BR)
Melon – Paintings + Live (VE)
Milla Autar – Poetry (NZ)
MoraSalvaje – Black Light Surreal Illustrations (CO)
Morgane Faes Cortes – Sculptural Installations (FR)
Nicolas Fellas – Plants & Machines Installations (LB)
Oriol Reverter – Photography (CAT)
TrèsBeau – Set Design (FR)
Rien – Visual Artist & VJ (FR)
MUSIC LINEUP:
1MR4 – Haimney, Barcelona
Andre Crom – Off Recordings, Berlin
Lou Flores – Drumma, Miami
PØLI – HEX, Barcelona
Romina D'Angelo (live) – Barcelona
Samsön – Jammy, Barcelona
Stallo – Disconnekt, Berlin
Stefano Bosio – Alien Transmissions, Barcelona
Symbiotic (live) – Plant Music, Berlin
CONCEPT STORE:
Claudia Carbona – Jewelry
Ivan Pompei – Lather Accessories
Yohnny Deco – Vintage corner
SUPPORTED BY:
Can Paixano (La Xampanyeria) – Barcelona
Abacus cooperativa – Barcelona
The Plant shop – Barcelona
Tom Hemp's CBD shop – Berlin
Projekt Glitter – Berlin
UNIVERSAL TECHNO
Culture, System, Lifestyle & Religion.